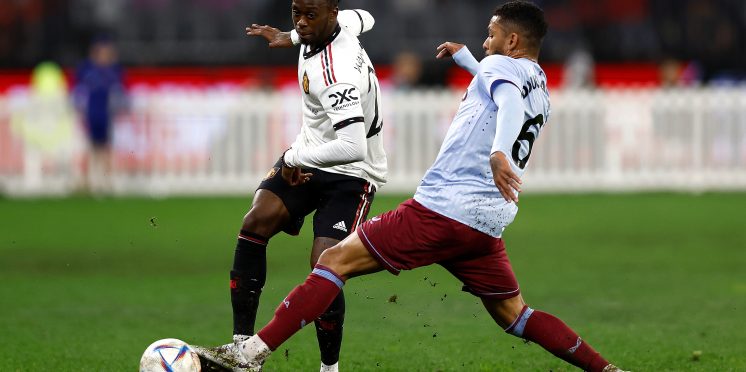 West Ham "trying to explore" move for £50m star Wan-Bissaka
West Ham United "have been trying to explore" a move for Manchester United's £50million defender Aaron Wan-Bissaka.
That is according to transfer insider Dean Jones who believes that this is one of the links to "take most seriously," with the Hammers "trying to explore" the intricacies surrounding his sudden downfall at Old Trafford.
Speaking to GIVEMESPORT, Jones said: "I think the Wan-Bissaka link is probably the one to take most seriously. But obviously, West Ham at the moment have been trying to explore exactly what has gone so wrong for him.
"They want to make sure that he is still the player that they remember him to be and that there are no other issues here."
Entirely useful
As a defensive asset, Wan-Bissaka shines in the primary tasks.
In fact, he more than shines as an outright defender, with the majority of his defensive metrics ranking in FBref's 90th percentile in comparison to positionally similar players across the last calendar year.
The three-cap England international's average of 3.03 tackles per game see him rank in the 97th percentile according to FBref, whilst his number for tackles and interceptions are him ranked in the elite category, averaging 5.51 per outing.
Which is why his downfall at Old Trafford has been such a shock.
The go-to explanation is to do with tactics.
Ralf Rangnick expected both fullbacks to progress up the pitch, whilst Erik ten Hag has also followed in that mode of thinking.
Wan-Bissaka's weak point is his attacking ability, but that is nothing to be ashamed of.
The 25-year-old would shine in an asymmetric fullback system – as used by Moyes whenever Thilo Kehrer plays as a right-back.
It essentially sees the left-back, in this case Aaron Cresswell bomb forward, acting almost as a secondary winger, whilst the right-back, which in this example would be Wan-Bissaka, would tuck inside and act as a makeshift centre-back in possession.
Given licence to just solely concentrate on what he is exceptional at, the 25-year-old could shine at the London Stadium, with the nurture from David Moyes much needed at this point in his career, following a tough spell at Manchester United.
---