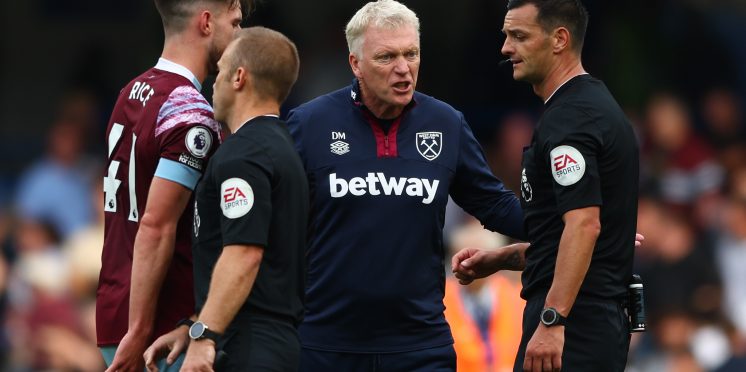 Alex Crook reveals David Moyes' reaction to VAR controversy
talkSPORT's Alex Crook has been speaking about how David Moyes let rip on the officials down the tunnel following West Ham's controversial defeat at the weekend.
The Hammers thought they had snatched a point in injury time as Maxwell Cornet rifled to the net but their elation soon turned to frustration at Stamford Bridge as following a review Andy Madley decided to disallow the goal following an alleged foul on Edouard Mendy from Jarrod Bowen in the build-up.
The decision has been greatly disputed since with Declan Rice calling it a 'shambles' while Moyes branded the call 'ridiculous' when speaking to Sky Sports.
Now Crook has detailed how the manager reacted after the game and the journalist himself has blasted those at Stockley Park for their intervention.
When asked by Sam Matterface on the talkSPORT GameDay podcast was Moyes seething at the full-time whistle he said:
"He certainly was, the radio position for post-match interviews is right at the tip of the tunnel at Stamford Bridge and I didn't realise it before Saturday it's actually right next to the official's office.
"I realised it on Saturday because all you could hear from that official's office was a very angry Scotsman and every other word was F and listen, I understand because for me, that was the worst decision that we've seen since the technology came in.
"In nobody's world was that a foul on the goalkeeper and he'd already lost control of the ball anyway. Cornet rounds Mendy, who made a real mistake and has been let off by the officials, finishes brilliantly into the top corner and West Ham should have had a point.
"VAR should never have even got involved, once they did and it was Jarred Gillett, who I think is a really poor official by the way, the on-field referee should have had the courage in his convictions having seen the replay to say no, it's not a foul and the goal stands."
Indeed such was the backlash of the decision, the PGMOL have come out to hold their hands up and admit they made the wrong call and bringing into question the integrity of VAR moving forward.
Nevertheless, from a footballing standpoint, Moyes will feel aggrieved as it leaves his side in the bottom three of the Premier League and while they are unlikely to be embroiled in a relegation battle come the end of the campaign that point could have proved invaluable when it comes to their final standing come May with European football once again the aim.
---