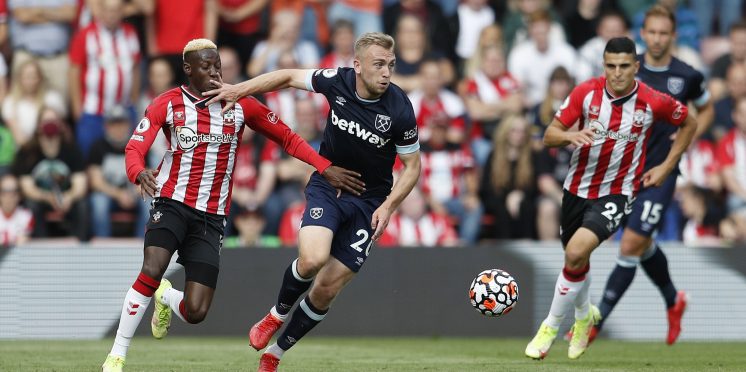 Opinion: Why West Ham star will thrive this season
West Ham winger Jarrod Bowen will thrive under competition from other teammates this season, and could flourish in the 'false 9' role this coming weekend.
Following a disappointing 0-0 draw with Southampton on Saturday, Jarrod Bowen provided a spark of life in West Ham's attack. While the game lacked creativity at times, it was the English winger who often created chances for the team.
Now, the team's only striker cannot play against Manchester United next week, after Michail Antonio needlessly got sent off in injury time. This means that Bowen will likely take his spot leading the line, but operating a deeper 'false 9' role as he did on occasion last season.
The 24-year-old winger scored eight goals and produced six assists last year, helping the team keep a spot in the top six even when Antonio was out injured.
Bowen's pace and finishing capabilities make him one of the stand-out options in the 'false 9' role. He can also keep hold of the ball well to allow others to make runs off him, which is what West Ham will need to do against Man United on Sunday.
Competition for Bowen
With West Ham's attacking midfielders flourishing right now, the arrival of Nikola Vlasic from CSKA Moscow raised questions over whether or not he should replace the likes of Bowen in the starting lineup.
However, it seems like Jarrod has made that right-hand attacking spot his own now, and is starting to become undroppable for manager David Moyes.
Throughout his West Ham career, Bowen has faced several challenges, including finding out his role in the team. But with this, he has adapted and improved, highlighting how he can thrive off the competition in the squad this season.
As a fan favourite, he is becoming increasingly popular within the fan base as well. This year's campaign will only see him continue to grow, especially with European football under his belt, and it will be exciting to see the player Bowen will turn out to be in claret and blue in the coming months.
---