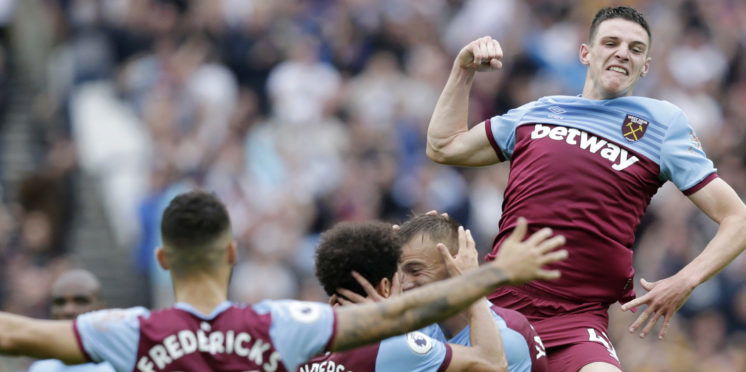 West Ham fans love Rice's brilliant recovery tackle against United
The positives for West Ham are endless at the moment, the Hammers are looking like a very dangerous team right now and the 2-0 win against Manchester United proves that.
One West Ham fan on social media has decided to give some extra praise to Declan Rice after noticing a moment of brilliance in the first half. The midfielder managed to dispossess Marcus Rashford who was seemingly in on goal with the game at 0-0.
Take a look at how he did it:
Twitter: RT @DubeyWill: Declan Rice can shift. https://t.co/ccJnZ2fxfD (@remynimo)
You cannot deny that Rashford lost control for a moment, giving Rice the opportunity to retrieve the ball. Nevertheless, it was a great piece of defensive work from Rice and it clearly did not go unnoticed with these West Ham fans on Twitter.
Twitter: Yes Rashford is poor here and gives Rice a chance, huge advantage in being able to finish with both feet! Rice's ch… https://t.co/3vO2K2Uk0i (@DubeyWill)
Twitter: @DubeyWill This is something we've been pushing a bit more in our youth development programs – developing players w… https://t.co/Xwp4qFvHzX (@timhpal)
Twitter: @timhpal Nice. The deceleration here is also just as impressive as the recovery, for a 6ft1 guy. (@DubeyWill)
Twitter: @DubeyWill @vicsinghb I thought that was such a cracking piece of defensive play (@happyhammer76)
Twitter: @DubeyWill @Baz1980WHU Thought that was unbelievable on Sunday. He appeared from absolutely nowhere. (@fazzamania)
Read West Ham verdict
Even without this impressive challenge, Rice is unfairly criticised, he gives the team a huge boost and has struck up a great partnership with Mark Noble in midfield.
The pair provide great cover for the back line, but they also show their creative quality going forward.
The vital tackle helped West Ham on their way to all three points, with the Hammers sitting fifth in the Premier League.
---